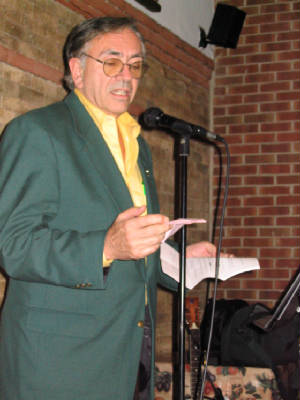 Oh, Stu.
Stu Bykofsky's at it again. He's in the Daily News today, taking on the "Ground Zero mosque" issue by decrying the intolerance and insensitivity ... of the left.
No really.

I don't oppose building Cordoba House or Park51, or whatever it's called this week, near Ground Zero, but I understand why many dislike the location.

They are assaulted by the Hard Left as un-American, Islamophobic bigots. Is that fair? Is there no other possible explanation for their opposition?

The Hard Left demands, rightfully, that we not judge all Muslims by the acts of a few, but then judges all conservatives by the acts or remarks of a few.

It's disheartening that the same progressives who condemned Sen. Joe McCarthy's guilt-by-association tactics find it so easy to smear their opponents.
I'm not quite sure who all Stu is lumping into the "hard left" here, but I get the feeling it includes a lot of people who are merely, you know, liberal. And vigorous about defending First Amendment freedoms.
The problem here is that Stu gives the game away with is appraisal of the project.
Two-thirds of Americans agree that Muslims have a right to build it, yet think the location is unhelpful. They may be letting emotion trump reason, but are they Islamophobes?

If you despise - as I do - the Westboro Baptist Church for holding up "God Hates Fags" signs and desecrating soldiers' funerals, are you anti-Christian?
Well, Stu, no. But if you oppose the presence of, say, Lutherans or Catholics or Methodists at military funerals because they're Christians and Fred Phelps is a Christian, then yes: you're anti-Christian. You'd be burdening an entire religion with collective guilt from the actions of a few jerks. And that would be irrational, unthinking and unconcerned with the facts. More than that: It would be wrong.
That's more or less what's happening with the "Ground Zero mosque." (Which, as has been pointed out many times, isn't actually at Ground Zero.)
So what Stu is really saying here is: Collective guilt for thee, but not for me.
It's understandable that all Muslims be painted as terrorists-in-waiting, but oh so unfair to paint all critics as Islamophobes!
Stu's complaint breaks down under the weight of its own contradictions.
It also breaks down under the weight of, you know, the facts:
Plenty of liberals have praised Sen. Orrin Hatch
-- a conservative's conservative -- for defending the First Amendment rights of the Park51 leaders. Lots of them have linked to columns by former Bush aides
Michael Gerson
and
Mark McKinnon
mounting a similar defense. So we're not calling all conservatives "Islamophobes." Just the Islamophobic ones.